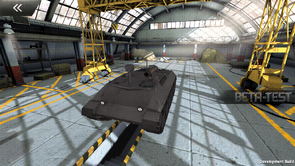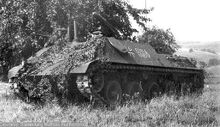 History
The Raketenjagdpanzer 2, or Raketenjagdpanzer SS-11, was a German missile-armed destroyer employed from 1967 to 1982 and equipped with Nord SS.11 guided anti-tank missiles. It was developed at the same time as the Kanonenjagdpanzer (the tank destroyer variant of the Raketenjagdpanzer 2) and the Marder 1A1 IFV.
Combat Roles In-game
The Raketenjagdpanzer's anti-tank missiles can deal some immense damage, but there are some constraints to its actual use since the ATM has to lock on to its targets. Though it can be very deadly when encountered from a distance, it is nearly helpless when fought from up-close. Since a distance between the target and the Raketenjagdpanzer must be made in order to actually fire the missile, it can only deploy Mines as means of fighting back when the enemy is too close to it. The armor of the Raketenjagdpanzer is very weak as well, so high explosive shells can deal some massive damage to it. Although the armor is weak, its speed is excellent, meaning that it is easily possible for the Raketenjagdpanzer to evade enemy fire and make it back to some type of safety. Since the missile can only be locked onto enemies from a distance, it is recommended that the Raketenjagdpanzer uses spots where it is easy to move up a bit and shoot before quickly getting back down into cover to reload and avoid enemy fire.
Pros and Cons: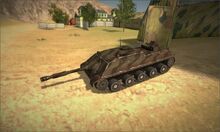 Pros:
Tank is very effective in all levels in its personal level range
Very fast speed, reverse speed is excellent as well
Handles terrain fairly well
Fairly fast rate of fire for a missile launcher
Can be equipped with mines which can deal with pursuing opponents (but slow reload rate of mines might not kill full health tanks.
Cons:
Absolutely no turret rotation (rotation of the missile launcher)
Gunner's sight is made very difficult to use due to having no turret rotation to move it
Armor is even worse than that of the Kanonenjagdpanzer, when maxed
Only armed with missiles, so practically helpless when attacked from close range
Slow lock on time.
Slow fire rate of ATM's
Restricted in some maps
Not suited for small maps due to lock on distance.
Community content is available under
CC-BY-SA
unless otherwise noted.