History
The Stingray light tank, or economy main battle tank, is a American tank produced by Textron Marine & Land Systems division (formerly Cadillac Gage). It was specifically designed to use as many existing components of other American armored fighting vehicles as possible to keep costs down. It was originally developed for the U.S. Army's Armored Gun System (M8 AGS) competition. Thailand is the only actual user of this tank. The Stingray's main armament is a low recoil force (LRF) version of the British Royal Ordnance L7 105 mm rifled gun installed in a well-angled and electro-hydraulically powered turret having manual backup as is usually found on tanks, together with duplicate turret controls for the gunner and the commander, providing redundancy. Dimensions of the turret were deliberately designed to allow it to be refitted to M41 Walker Bulldog and M-551 Sheridan vehicles as an upgrade. The gun has optional stabilization in two axes, and eight rounds, with another twenty-four rounds stored in the hull. Complementing the main gun is a 7.62 mm co-axial machine gun with 2,400 rounds, as well as a 12.7 mm M2 Browning anti-aircraft machine gun with 1,100 rounds on the commander's hatch. The Stingray II is fitted with sixteen protective smoke grenade launch tubes, with eight of them on each side.
In-game
In-game, the Stingray is considered a light tank. Whilst it certainly has the armor of a light tank, it most definitely doesn't have the speed on one. When maxed, it has a speed of 56.4 kilometers/hour, which is actually quite sluggish for a light tank. However, it has over 1000 health points and has 400 statistical damage per shot. The accuracy of its gun is also phenomenal, and it can easily hit targets in the effective areas from longer distances even with the less accurate ammunition types. But, the reload of the gun is also very unlike a light tank as well, being the same, average duration as a medium tank. The Stingray can be a dangerous light tank when used correctly. It can easily destroy lightly to mid armored tanks, but can easily be taken out in only a few shots itself. Because of these statistics and characteristics, the Stingray plays best as a sniper or support unit. It greatly fits these roles, and can be successful in them when used correctly.
Pros and Cons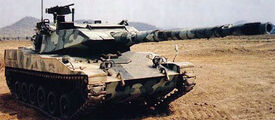 Pros:
Large health pool
Fairly powerful gun
Outstanding accuracy, some of the best in the game
Good turret rotation speed
Cons:
Horrible all round armor with no spaced armor to protect it either, high explosive can be very effective against it
Speed is underwhelming for a light tank
Community content is available under
CC-BY-SA
unless otherwise noted.