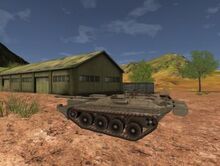 History
The Stridsvagn 103 (Strv 103), also known as the S-Tank, was a Swedish post-war main battle tank. It was known for its unconventional turretless design, with a fixed gun traversed by engaging the tracks and elevated by adjusting the hull suspension. Turretless armored fighting vehicles are usually classified as assault guns or tank destroyers, but the Strv 103 is considered a main battle tank because of its gun laying ability and its designated combat role matches those of other tanks. It is the only main battle tank and the only tank of any kind since the World War II era to dispense with a turret. The Strv 103 was designed and manufactured in Sweden. It was developed in the 1950's and was the first main battle tank to use a turbine engine. The result was a very low-profile design with an emphasis on defense and heightened crew protection level. The Strv 103 formed a major portion of the Swedish armored forces from the 1960's to part of the 1990's, but have since been removed from service in favor of the Stridsvagn 122, a Swedish variant of the German Leopard 2 main battle tank.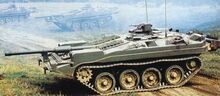 Gameplay
The Strv-103 is a one in a kind "tank" and is the only vehicle in-game that can manipulate its suspension to angle its armor. The role of the Strv 103 is best for defense and sniping. the strv 103 is meant to have a defensive role despite its label as Main battle Tank due to its cheesewedge design which allows the vehicle to hide its weak point which is the lower hull on a slope or hill, which allows for HEAT rounds to be ineffectiv. The Strv 103 is best used as a sniper because of its low profile, high speeds, and accurate gun. The main downfall of the vehicle is it's turretless design once a enemy flanks you the Strv 103 must turn the whole vehicle to face the opponent, the vehicle also can't withstand APDS and once you level the tank higher the armor will crack once facing opponents of higher tiers.
Pros and Cons
Pros
Low profile
Decent gun
High top speed
Elevating tracks
Heavily sloped front armor can repel most shots.
Cons
Weak side armor
Turretless
Community content is available under
CC-BY-SA
unless otherwise noted.