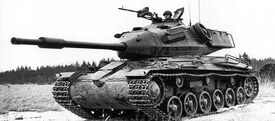 History
The Stridsvagn 74 (Strv 74) was a Swedish tank in use with the Swedish Army from 1958 to 1984. It was a modification of the older Stridsvagn M42, which was phased out of service in the 1950's. Instead of scrapping the vehicles altogether, the chassis were used to build a new tank which could be used as a supplement to the newly bought Stridsvagn 103 (Strv 103). The turret of Strv 74 was completely new, with a 75 mm high-velocity gun based on an old anti-aircraft gun. The engines and transmission were modified or changed from the Strv M42, and broader tracks and a separate electrical engine for the turret rotation was introduced while retaining the manual control as a backup.
In-game Use
The tank has good fire power and is pretty fast, so circling larger, heavier tanks is not hard to do. The biggest downfalls of the Strv 74 are its slow reload and slow turret rotation speed. But this tank is still fairly competitive while still stock, and can deal some good damage to other tanks when it is just purchased. This makes the Strv 74 popular among newer players when they are ready to purchase another tank after they are done with their starter tank.
Pros and Cons
Pros:
High health pool
Powerful gun, good DPM despite the slow reload
Fairly quick speed, respectable agility
Turret is well sloped from the front
Cons:
Terrible armor all round, easily damaged with high explosive
Very tall profile
Reload is pretty slow, turret rotation is rather slow as well
High explosive ammo is not available
Community content is available under
CC-BY-SA
unless otherwise noted.