History
The T-14 Armata (Russian: Т-14 Армата, industrial designation "Object 148") is a Russian 5th generation main battle tank based on the Armata Universal Combat Platform and is described as one of or possibly the most advanced tank in the world.It was first seen in public (initially with its turret and cannon shrouded) during rehearsals for the 2015 Moscow Victory Day Parade. The Russian army plans to acquire 2,300 of the T-14 Armata in the period 2015-2020. Russia is planning to sell the T-14 Armata to Egypt and countries in Asia, though this is debated as Russia found that mass production of the vehicles is expensive.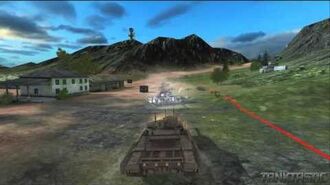 In-game
The T-14 Armata currently in the top of it's class both in real life and ingame. Ingame it is the end of the Russian tech tree and highest leveled tank with the M1A2 SEP TUSK in second place, it is considered to be "OP" by the community (Unlike it's previous counterpart) especially in level 1-100 custom rooms. Since the T-14 will be mainly versing itself and the TUSK in normal matches it is best to upgrade your APDS rounds since the only tanks your fighting are heavily armoured despite all the available rounds. The vehicle has the best stats in the game though this won't go into very much effect as the T-14 will mainly face itself and the winner of these duels are usually based on who has fully upgraded thier tank or who had the first shot.
Pros and Cons
Pros
Thick armor
Powerful gun
Mounted with ATM
Only has to face itself and the Tusk II
Cons
Poor accuracy
Tall profile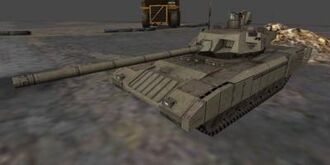 Community content is available under
CC-BY-SA
unless otherwise noted.