History
The T-54 and T-55 tanks are a series of main battle tanks (according to some sources), although not recognized as an MBT by Soviet and Russian sources, instead classifying them as medium tanks (the very concept of "main battle tanks" was applied only to tanks beginning with T-64A, armed with 125 mm tank gun), that were designed in the Soviet Union. The first T-54 prototype appeared in March 1945, just as the Second World War ended. The T-54 entered full production in 1947 and became the main tank for armoured units of the Soviet Army, armies of the Warsaw Pact countries, and others. The T-54 and T-55 were involved in many of the world's armed conflicts during the late 20th and early 21st centuries. T-54 tanks served in lots of countries. They served in the 1956 invasion of Hungary, Vietnam War, and in Angola.
In Game
The T-54 is the starter tank for players in Russia and former states of the Soviet Union. It is fast, agile, but suffers from a slow turret rotation speed and abysmal reverse speed. It is most often used in rooms where it is top tier, and usually comes out on top. This tank is one of the most seen vehicles in lower levels of the game. The tank's speed is high, just as the maneuverability. The damage is good for its level, so it takes out enemies fairly quickly with usually just a few shots. In order to take one out, it is best to flank and get behind the T-54, as it can't reverse to counter the attack and can't turn its turret very fast. The tank is seen as expendable by players but if used correctly the T-54 can overwhelm the enemy team.
If upgraded heavily, the T-54 can survive several attacks and come out victorious, due to it's damage and protection. It does roughly 30 damage to other tanks.
Pros and Cons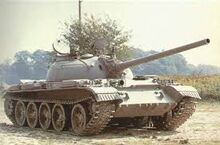 Pros:
Effective frontal armor, well angled
Great turret armor all-round
Good damage and DPM
Fast speed and nice agility, low profile as well
Cons:
Low health pool, gets destroyed very easily by enemies with a good rate of fire or high alpha damage
Mobility is overall bad, reverse speed is pathetic
Slow turret rotation speed
Cannot use HEAT nor APDS shell
Community content is available under
CC-BY-SA
unless otherwise noted.