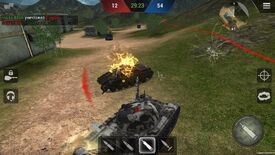 History
The T-62 is a Soviet main battle tank, a further development of the T-55. Its 115 mm gun was the first smoothbore tank gun in use. The T-62 was produced between 1961 and 1975. It became a standard tank in the Soviet arsenal, partly replacing the T-55, although that tank continued to be manufactured in the Soviet Union and elsewhere after T-62 production was halted. The T-62 was later replaced in front-line service by the T-72.
The T-62 saw combat for the first time during the 1969 Sino–Soviet border conflict, during which one was disabled and captured by the People's Liberation Army which was used for the development of the Type 69 and Type 79. The T-62 and their respective variants currently are still being operated by a handful of countries.
In-Game Use
The T-62 is a tank that has its upsides and downsides clearly defined. The alpha damage is excellent, but the reload speed is quite slow. The speed of the vehicle is lacking, but the acceleration is great. These statistics make the T-62 fairly unsuitable for going on the offensive. The hull armor is rather bad, but the turret armor is some of the best around its level. This makes it quite effective when going in the hull-down position, although the gun depression somewhat constrains the effectiveness of this. The tank's health pool is also quite nice, being some of the largest around its level. Thus, it can outlast what it can't outshoot, and still have enough health points left to drive away at the end of the encounter. The T-62 also has a very torquey engine, which gives it that almost instantaneous acceleration to top speed. Played properly, the T-62 can be as powerful a tank as any at its level.
Pros and Cons
Pros:
Large health pool, one of the biggest in its personal level range
Turret armor is one of the strongest in its level range as well
High alpha damage, great penetration values
Amazing acceleration, some of the best in the game
Low profile, turret rotation is also a bit faster than average
Cons:
Hull armor is horrible
Slow reload, results in a pretty low DPM
Slow speed, slower than the T-54
Bad gun depression, hinders taking advantage of the strong turret in a hull-down position
Cannot use an ATM, unlike the T-64
Community content is available under
CC-BY-SA
unless otherwise noted.