History
The T-64 was the "advanced" counterpart to the T-72, serving in elite tank divisions while the cheaper, less protected T-72 equipped most of the army. The T-64 is a Soviet main battle tank, introduced in the early 1960's. It was also a more advanced counterpart to the T-62: the T-64 served tank divisions, while the T-62 supported infantry in motor rifle divisions. Although the T-62 and the famous T-72 would see much wider use and generally more development, it was the T-64 that formed the basis of more modern Soviet tank designs such as the T-80.
Being the "elite" tank of the Red Army until the T-80 came along, the T-64 was never exported like the T-72. It was produced in smaller numbers and the crewmen who operated it were given slightly better training than their "regular" counterparts. After becoming obsolete in the late 70's, the T-80 was made to replace it. Some versions even used the T-64's turret.
In-game
When maxed, the T-64 will start to face more modern main battle tanks that are stock (or at least somewhat stock). Given its Soviet origin, its reverse is horrid and it is prone to getting flanked. For its level, the agility and speed are decent. But, the damage is considerably underwhelming, especially since it doesn't have a rapid firing gun like the French main battle tanks. It accelerates quite quickly for its level, and by so is a good flag runner. The thing it most stands out on, however, is its survivability: its health pool is pretty low, but it has very effective hull armor that proves great for sidescraping. This makes it a highly protected vehicle from the front, although the turret armor is not as tough as that of the T-62.
Pros and Cons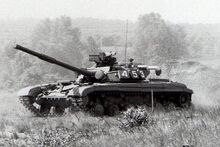 Pros:
Excellent hull armor, upper glacis is well sloped and lower glacis is not very weak either
Turret rotation speed is slightly faster than the average speed
Much faster speed than the T-62, agility is acceptable
Very low profile
Can use an ATM, unlike the T-62
Cons:
Health pool is quite low
Typical Soviet/Russian main battle tank reverse speed
Alpha damage is low, DPM is rather underwhelming
Cannot use active protection system, unlike the T-62
Gun depression is decent, but far from remarkable
Community content is available under
CC-BY-SA
unless otherwise noted.