History
The T-72 is a Soviet second-generation main battle tank that entered production in 1970. It was developed directly from the Obyekt-172, and shares parallel features with the T-64. The T-72 was one of the most widely produced post–World War II tanks, second only to the T-54 family, and the basic design has also been further developed as the T-90. The T-72 served in the Middle East, and other countries, like Syria. It was also used by Ukraine and Russian forces. It entered service with Soviet army in 1973. A total of 30 000 tanks of this type were produced in the Soviet Union, China, Czechoslovakia, India, Romania and Yugoslavia. It was exported to about 30 countries. At the end of 1990's Russia operated around 9,000 of these main battle tanks.
In-game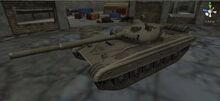 In-game, the T-72 is a very good tank for its level. It possesses great damage, but a middling reload time. Its mobility is overall alright for a Soviet/Russian main battle tank (though nothing remarkable), and it is a good flag runner because of its mix of speed and ruggedness. Its armor is great, given that it has effective spaced armor and a high amount of passive and reactive armor, but don't abuse it as its health pool is rather low. It is important to protect the sides and rear of the T-72, as enemies can diminish this vehicle's low health pool relatively quickly by getting easy penetrating shots at these areas. Although, the armor of sides prove to be very effective when sidescraping (like the T-64). By fronting the enemy, the opponent only can shoot at the greatly protected hull and turret armor of the T-72.
Pros and Cons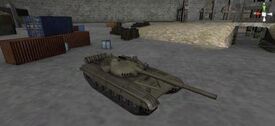 Pros
Amazing frontal hull and turret armor, upper glacis Pact is extremely angled and turret has excellent sloping, amazing reactive armor protection
Gun has good alpha damage
Respectable speed
Cons:
Health pool is rather low
Reload is slow, gun depression and DPM are poor
Same miserable reverse speed, agility is lacking
Slow turret rotation speed
Community content is available under
CC-BY-SA
unless otherwise noted.