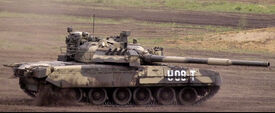 History
The T-80 is a third-generation main battle tank designed and manufactured in the Soviet Union. A development of the T-64, it entered service in 1976 and was the first production tank to be equipped with a gas turbine engine for main propulsion. The T-80U was last produced in a factory in Omsk, Russia, while the T-80UD and further-developed T-84 continue to be produced in Ukraine. The T-80 and its variants are in service in Belarus, Cyprus, Kazakhstan, Pakistan, Russia, South Korea, and Ukraine. The chief designer of the T-80 was the Russian engineer Nikolay Popov.
In-game
The T-80 is the final vehicle of the Soviet main battle tanks. The sides are bit weak, so try to cover those as much as possible. The speed is very high for a medium armed tank. The frontal plates have an excellent angle, so the enemy will cause not very high damage from the front. This tank is best used in close combat because it has relatively poor accuracy. A maxed out T-80 reach level 60. The maneuverability is medium for a medium armed tank.
Pros and Cons
Pros:
Armor is great, though the health pool is still not rather low like the T-72 or T-90
Frontal armor and all round turret armor have excellent angling
Very fast speed, unlike its predecessor or successor
Very low profile
Cons:
Cannot use spaced armor, unlike the T-72 or T-90
AP performance is absolutely horrible, gets only one tier of upgrade for it
Alpha damage is rather low, DPM is poor (though still better than the T-72)
Usual Soviet MBT reverse speed and gun depression, agility and turret rotation speed are subpar
Community content is available under
CC-BY-SA
unless otherwise noted.