History
The T-90 is a Russian third-generation main battle tank that is essentially a modernization of the T-72B, incorporating many features of the T-80U (it was originally to be called the T-72BU, later renamed to T-90). It is currently in service with the Russian Ground Forces and Naval Infantry. Although a development of the T-72, the T-90 uses a 125 mm 2A46 smoothbore tank gun, 1G46 gunner sights, a new engine, and thermal sights. Standard protective measures include a blend of steel, composite armour, smoke mortars, Kontakt-5 explosive-reactive armor, laser warning receivers, Nakidka camouflage, and the Shtora infrared ATGM jamming system. The EMT-7 electromagnetic pulse (EMP) creator has been used in testing but not fitted to T-90s in active service. It is designed and built by Uralvagonzavod, in Nizhny Tagil, Russia. Since 2011, the Russian armed forces have ceased ordering the T-90, and are instead waiting for the development of the Universal Combat Platform T-99 (later revealed as the T-14 Armata being the main battle tank of that platform) that is expected to enter service in 2020. There were also T-90s that have been converted to the T-90MS Tagil.
In-game
The T-90 possesses lots of armor (612 when stock, but over 1200 when maxed), which serves to make up for its rather low health pool for its level. Much like all other Soviet/Russian MBTs, it is extremely slow when driven backwards. Unlike its predecessors, it is actually very agile. The T-90 also has an acceptable DPM, though it is still far from anything really impressive. It can be a very hard vehicle to kill, as it has an excellent combination passive, reactive, and spaced armor. The T-90 works excellently for going on the defense, as its reverse speed is worried about much less then if it were to take a more offensive role. The T-90 is an dangerous enemy for most high tier tanks, such as the Type 10, K2 Black Panther, Merkava 4. Using the turret rotation and the speed, the T-90 can circle deadly around you, however, when a T-90 itself is getting circled by the enemy, try to front the opponent. His armor will repel some shots frequently, however, the side and rear armor are low, and that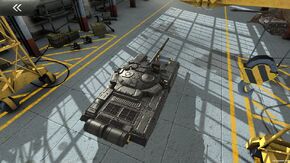 combined with the low heath pool, it is an excellent target for much damage tanks or fast vehicles. An skilled player can use it in close combat and large scale fights, but for long range the T-90 has poor accuracy.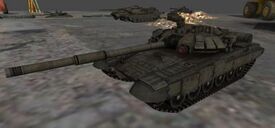 Pros and Cons
Pros:
Extremely protective armor, second best armor rating in the game
Frontal armor and turret are nicely sloped
Nice agility, unlike the T-72 and T-80
Cons:
Low health pool, armor also gets countered easily by APDS
Typical nonexistent reverse speed
Community content is available under
CC-BY-SA
unless otherwise noted.