History
TOS-1 (Russian: ТОС-1 - тяжёлая огнемётная система, English: Heavy Flame Thrower System) is a Soviet 220 mm 30-barrel (original system, Ob.634 or TOS-1M) or 24-barrel (Ob.634B or TOS-1A) multiple rocket launcher and thermobaric weapon mounted on a T-72 tank chassis. It is often referred to as the TOS-1 "Buratino".The TOS-1 was designed for defeating enemy personnel in fortifications, in open country, and in lightly armoured vehicles and transport. The first combat tests took place in 1988-1989 in the Panjshir Valley during the Soviet War in Afghanistan. The Buratino was shown for the first time in public in 1999 in Omsk. The vehicle is not used by the artillery units of the Russian Armed Forces, but is found in NBC defense units (Russian: войскa радиационной, химической и биологической защиты (РХБЗ)). The TOS-1 Buratino was never exported, and was only used for trials and evaluations.
Usage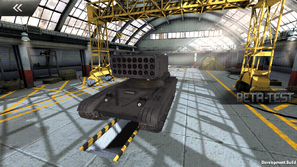 This artillery loads and locks lots of missiles and splashes enemies, and can be helpful for luring snipers or campers out of their position. Unlike normal artillery the Tos-1 is more deadlier because of its faster fire rate, another advantage is that the TOS-1 has armor unlike the M270 MLRS and howitzered based artillery. One disadvantage is the high profile and though it has more armor than most artillery vehicles it is still suggested to stay at your spawn or a secluded location and spew rockets wherever needed.
Pros and Cons
Pros:
Launches out rockets extremely quickly, somewhat makes up for the rather low damage of each rocket
Cons:
A lot of accuracy is lost when the rockets are rapidly fired, they also do not deal nearly as much damage as the rockets of the M270 MLRS
Community content is available under
CC-BY-SA
unless otherwise noted.