History
The TR-85 is a main battle tank designed for the armed forces of Romania. Based on the TR-77-580 (Romanian-built version of the Soviet T-55 tank), the TR-85 tank was developed from 1978 to 1985 and produced from 1986 until 1990. A modernization program was initiated in March 1994 in order to upgrade the TR-85 tanks to NATO standards. The result was the TR-85M1 main battle tank, currently the most modern tank in service with the Romanian Land Forces. Although a further development of the T-55, the TR-85M1 uses a T-block powerpack (similar to the one used in the Leopard 1) based on a V8 German 830 hp diesel engine, an improved turret, a locally-designed "Ciclop" fire control system (with cross-wind sensor, laser rangefinder and night vision), new 100 mm BM-412 Sg APFSDS-T projectiles, and a completely redesigned suspension with six road wheels on each side, protected by metal side skirts. The total combat weight is 50 tons.
In-game
The TR-85M1 is primarily a charge tank or sniping tank due to its rather sluggish speed. The reload speed is subpar, but the upgrades for it aren't too expensive. Active protection system, spaced armor, and reactive armor are all available for it, as well as both Night Vision and Thermal Vision. Rare in most lobbies, the TR-85 looks a lot like a small Black Eagle. The sides are pretty weak, so an enemy gun will cause great damage there. Although, the health pool is high, so a good amount of damage can be taken when the tank has maxed health. The armor isn't that high, however it can repel shots frequently.
Pros and Cons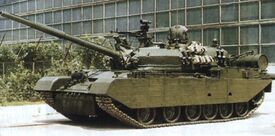 Pros:
High health pool
Great frontal armor, using the combination of reactive armor, spaced armor, and excellent angling
Gun has amazing penetration values, HEAT can frequently penetrate through spaced armor
Cons:
Side armor is poor, spaced armor cannot reliably repel HEAT shells
Mediocre reload is not compensated with high alpha damage, DPM is low
Speed is lacking, turret rotation speed can be considered somewhat slow as well
Community content is available under
CC-BY-SA
unless otherwise noted.