History
The Type 60 self-propelled 106 mm recoilless gun (60式自走無反動砲 roku-maru-shiki-jisou-muhandou-hou) is a light anti-tank vehicle developed by Japan in the late 1950's. It mounts two M40 106 mm recoilless rifles as its main armament, which are the same guns that are found on the American M50 Ontos. In the mid-1950s the Japan Ground Self-Defense Force contracted for one prototype each from Komatsu (SS1) and Mitsubishi Heavy Industries (SS2) powered by a 110 hp six-cylinder diesel engine and fitted with two 105-millimeter (4.1 in) recoilless rifles. They were delivered in 1956. A second series of prototypes was built with 4 recoilless rifles, but adoption of the American M40 recoilless rifle forced the reversion to two weapons. A third series of three heavier prototypes was built by Komatsu as SS4, with a more powerful engine, a new transmission and clutch and a two-speed auxiliary transmission. They were accepted into service in September 1960.
In-game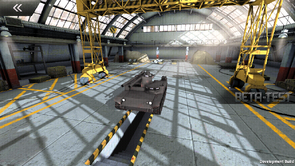 The Type 60 is a small nimble tank that can usually be seen zipping from position to position. It is best to play the tank as a flanker due to its light armor, high DPM, and low profile, but it is important to choose your targets carfeully in the type 60 the poor dpm of the vehicle isn't capable of taking on high leveled vehicles at all so it is best to wittle down opponents who are lightly armor or are already low on HP. It is also suggested to keep on moving, or else its health will plummet quickly due to its armor being basically nonexistent. If used correctly, it can highly impact objective games like Capture the Flag and Control Points. The Type 60 features two guns that shoot quickly after one another, with a clip reload after both shots are fired.
Pros and Cons
Pros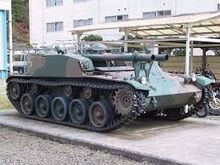 Extremely low profile, the 2md smallest tank in the game (some taller tanks literally cannot shoot the Type 60 when it is right near the vehicle unless they have HE ammunition)
Fast top speed and quick agility
Fast reload of both the shots and the clip
Cons
Very light armor cannot absorb damage, vulnerable to high explosive, especially the open top
Penetration values are very lacking, even AP ammo must be aimed carefully to effectively damage more highly armored tanks, accuracy is not great either
Turret is not fully traversible, and its rotation speed is also very slow
Near useless when bottom tier, as it simply dies way too quickly to higher tier vehicles and its gun loses a large majority of its effectiveness
Community content is available under
CC-BY-SA
unless otherwise noted.