History
The Type 74 (74式戦車 nana-yon-shiki-sensha) is a main battle tank of the Japan Ground Self-Defense Force (JGSDF). It was built by Mitsubishi Heavy Industries as a replacement for the earlier Type 61. The vehicle was based on the best features of a number of contemporary designs, placing it in the same class as the American M60 Patton or German Leopard 1. Like these designs, it mounts the Royal Ordnance L7 105 mm gun. However, the design did not enter widespread use until 1980, by which point other Western forces were starting the introduction of much more capable designs.
To prove the basic concept, a number of test rigs were built and tested between 1964 and 1967. Construction of the first two prototypes began at the Maruko works of Mitsubishi Heavy Industries late in 1968 and was completed in September 1969. They were called the STB-1 and contained many features of other tanks under development at that time. The first Type 74 MBT was completed in September 1975 and by the time production was complete a total of 873 Type 74 MBTs had been built by Mitsubishi Heavy Industries. It has been followed in production by the Type-90 MBT armed with a 120 mm smoothbore tank gun.
In Game
The Type 74 is a light brawler that relies on its speed and gun to do damage. Along with the Type 59, it has a good reload speed and deals decent damage. However, its overall stats make it fairly underpowered against other tanks in the same level range. A low number of health points and lack of armor makes it a 2 shot kill tank for same level tanks. Also, the damage isn't that high, but in combination with a high reload speed, the Type 74 is a fast-killer. The Type 74 is one of three tanks that have a hydraulic suspension (others being MBT-70 and Strv 103) allowing it to crest ridges and not showing to much of its profile
Pros and Cons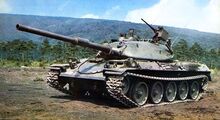 Pros:
Upper frontal armor is well sloped, and can occasionally bounce shells from lower tier vehicles (much less frequent when maxed, even when top tier)
Turret is well armored
Amazing accuracy, some of the best in the game
Good gun depression due to Hydraulic suspension
Cons:
Overall armor is very weak, no spaced armor either, gun mantlet is actually not very protective either
Somewhat slow for an acceptably mobile tank
Gun elevation is lacking
Community content is available under
CC-BY-SA
unless otherwise noted.