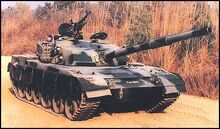 History
The Type 85 is a Chinese main battle tank prototype with a Type 80 chassis, welded turret, and 105 mm rifled main gun. Since the project was intended to be an export model and the Chinese government did not fund the project originally, this prototype was reportedly borrowed from a museum. When tests were completed, the vehicle was returned to the museum without the main gun, and a photo of this vehicle was circulated on the internet in the early 2000's.
In-Game
The Type 85 is your average Joe of a tank. It doesn't have much that's neither good nor bad about it. Only things that really stand out is the good maneuverability and the bad reverse speed. This tank is very flexible, it can flank, snipe, or support. The only thing it can't effectively do is fight head on, as its armor isn't the best.
Pros and Cons
Pros:
Good health pool
Excellent agility, with great acceleration and fast hull traverse
Usual turret rotation speed of Chinese MBTs
Though not much of a pro, HEAT ammo can actually be loaded unlike its predecessors
Cons:
Armor is horrible all round, not even frontal armor is very effective (unlike its predecessors) no reactive armor upgrades, spaced armor is not very reliable either
Slow reload
Alpha damage is low, DPM is noticeably underwhelming
Slow reverse speed, like the Soviet/Russian MBTs
Community content is available under
CC-BY-SA
unless otherwise noted.