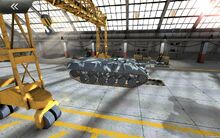 History
The Versuchsträger 1-2 (abbreviated to VT, meaning "test-beds" or "experiment carrier") were two German prototype twin gun turretless main battle tanks. Since the early 1970's, a number of West German companies have been working on conceptual designs for a successor to the Leopard 1 main battle tank. This project had the name Kampfpanzer 3 (KPz 3). The KPz 3 project was temporarily a British-German joint project, until the U.K. withdrew because they wanted a turreted tank. The Germans had already developed the Leopard 2 and therefore didn't see the need for another conventional tank. One of the companies involved was MaK, developing the VT 1-1 and VT 1-2. The test program ended proving that a twin-gunned turretless tank could be created with enough technical effort, but had drawbacks in both practical and tactical use, making it a medium to short range brawler.
In Game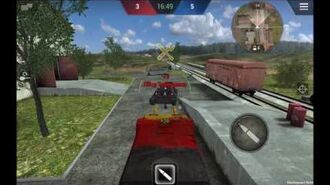 The VT was added in 2.0. Its performance is similar to the 
Kanonenjagdpanzer
but there are some differences between the two, for example it is equipped with two guns instead of the Kanonenjagdpanzer's one gun. It also has no gun traverse which means that fighting in urban enviroments is more difficult as the vehicles has to be positioned towards the target. Finally, the VT-1 has worse accuracy.
Pros
Double the firepower
Fast reload
Decent damage
High top speed
Low profile
Cons
No turret/gun traverse
Poor gun depression
Poor accuracy
Mediocre armor
Community content is available under
CC-BY-SA
unless otherwise noted.