History
The ZSU-57-2 (Ob'yekt 500) is a Soviet self-propelled anti-aircraft gun (SPAAG), armed with two 57 mm autocannons. 'ZSU' stands for Zenitnaya Samokhodnaya Ustanovka (Russian: Зенитная Самоходная Установка), meaning "anti-aircraft self-propelled mount", '57' stands for the bore of the armament in millimetres and '2' stands for the number of gun barrels. It was the first Soviet mass-produced tracked SPAAG. In the USSR it had the unofficial nickname "Sparka", meaning "pair", referring to the twin autocannon with which the vehicle is armed. The ZSU-57-2 was in common use with Soviet forces and several Warsaw Pact forces. Large quantities were exported to nations with ties to the USSR and many were used in conflicts in the Middle East, Africa and Asia. In the 1970's most have been replaced by the more capable ZSU-23-4. Those that remain in service are considered obsolete, but remain useful against ground targets.( Mainly infantry and lighter armed vehicles.)
In-game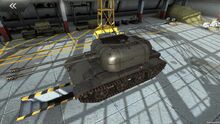 The ZSU-57 is a huge departure for the T-54, the vehicle has weak armor and a low damage gun that can rapidly fire AP rounds. Despite the vehicles class of AA, its main role is as a support tank that can help teamates wittle down weak enemies and take down the occasional helicopter.
Pros
High rate of fire
Quick turret rotation
Decent top speed
Large healthpool
Cons
Weak armor
Low damage output
High profile
Can only equip AP rounds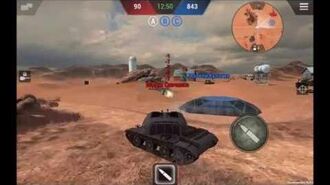 Community content is available under
CC-BY-SA
unless otherwise noted.