History
The Zulfiqar (ذوالفقار) is an Iranian main battle tank conceived by Brigadier General Mir-Younes Masoumzadeh, deputy ground force commander for research and self-sufficiency of the armed forces. It is named after Zulfiqar, the legendary sword of Ali, the fourth Caliph and the first Shiite Imam. The test prototypes of the tank were evaluated in 1993. Six semi-industrial prototypes of the tank were produced and tested in 1997.
Production of the Zulfiqar commenced in 1997, although pre-production vehicles could have been completed in 1996. Currently, the Zulfiqar is in production. But it already is in service with the Iranian Army. There are no known exports of the Zulfiqar.
In-game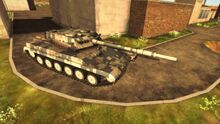 The Zulfiqar is a great all-around tank with decent firepower and health, though the armor is a bit light. It is best to use the Zulfiqar as a sniper due to its light armor but decent and accurate gun, flanker because of its high mobility, or support in numbers.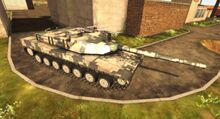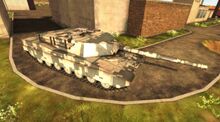 Trivia
The Zulfiqar is known (or unknown, rather) to be the most underrated tank in the game, poor tech tree back ground, and has been since its release into the game, and is not a common sight in rooms today
Pros and Cons
Pros:
Great health pool
Upper glacis is well angled, lower profiled tanks may have trouble damaging through it
Fast speed
Decent gun depression
Cons:
Armor is a bit light, has no spaced armor either
Acceleration is a bit lacking, meaning it can be difficult to reach the statistical speed
DPM is not bad, but is lower than many other tanks around its level range